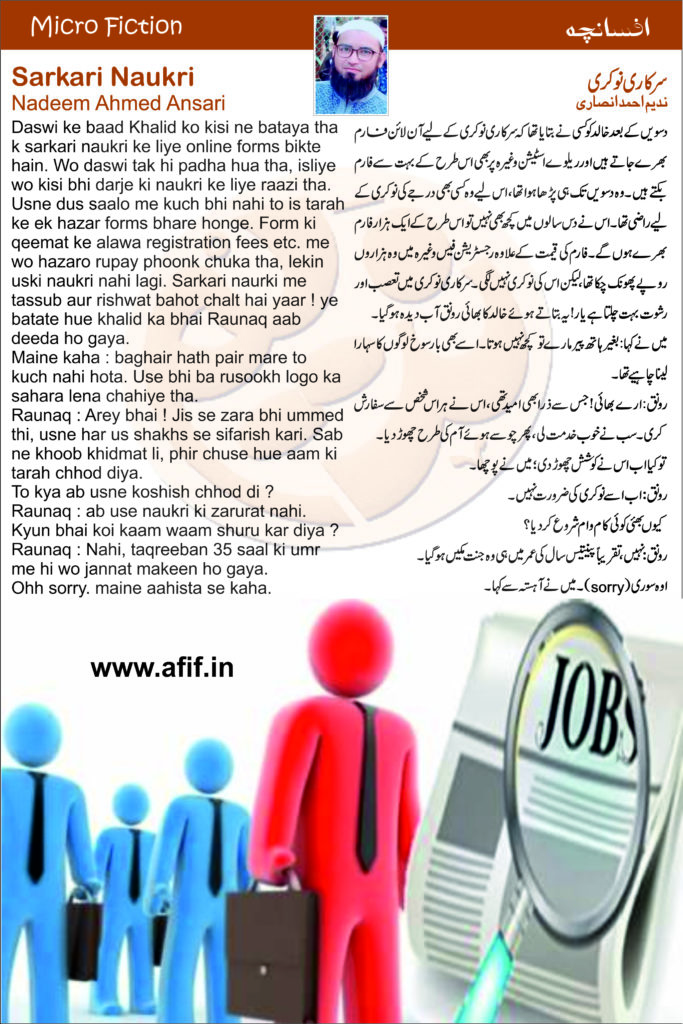 افسانچہ
سرکاری نوکری
ندیم احمد انصاری
دسویں کے بعد خالد کو کسی نے بتایا تھا کہ سرکاری نوکری کے لیے آن لائن فارم بھرے جاتے ہیں اور ریلوے اسٹیشن وغیرہ پر بھی اس طرح کے بہت سے فارم بکتے ہیں۔وہ دسویں تک ہی پڑھا ہوا تھا، اس لیے وہ کسی بھی درجے کی نوکری کے لیے راضی تھا۔ اس نے دس سالوں میں کچھ بھی نہیں تو اس طرح کے ایک ہزار فارم بھرے ہوں گے۔ فارم کی قیمت کے علاوہ رجسٹریشن فیس وغیرہ میں وہ ہزاروں روپے پھونک چکا تھا، لیکن اس کی نوکری نہیں لگی۔ سرکاری نوکری میں تعصب اور رشوت بہت چلتا ہے یار!یہ بتاتے ہوئے خالد کا بھائی رونق آب دیدہ ہو گیا۔
میں نے کہا : بغیر ہاتھ پیر مارے تو کچھ نہیں ہوتا۔اسے بھی با رسوخ لوگوں کا سہارا لینا چاہیے تھا۔
رونق : ارے بھائی !جس سے ذرا بھی امید تھی، اس نے ہر اس شخص سے سفارش کری۔ سب نے خوب خدمت لی، پھر چوسے ہوئے آم کی طرح چھوڑ دیا۔
تو کیا اب اس نے کوشش چھوڑ دی؛ میں نے پوچھا۔
رونق : اب اسے نوکری کی ضرورت نہیں۔
کیوں بھئی کوئی کام وام شروع کر دیا؟
رونق : نہیں،تقریباً پینتیس سال کی عمر میں ہی وہ جنت مکیں ہو گیا۔
اوہ سوری(sorry)۔ میں نے آہستہ سے کہا۔
Micro fiction
Sarkari Naukri
Nadeem Ahmed Ansari
Daswi ke baad Khalid ko kisi ne bataya tha k sarkari naukri ke liye online forms bikte hain. Wo daswi tak hi padha hua tha, isliye wo kisi bhi darje ki naukri ke liye raazi tha. Usne dus saalo me kuch bhi nahi to is tarah ke ek hazar forms bhare honge. Form ki qeemat ke alawa registration fees etc. me wo hazaro rupay phoonk chuka tha, lekin uski naukri nahi lagi. Sarkari naurki me tassub aur rishwat bahot chalt hai yaar ! ye batate hue khalid ka bhai Raunaq aab deeda ho gaya.
Maine kaha : baghair hath pair mare to kuch nahi hota. Use bhi ba rusookh logo ka sahara lena chahiye tha.
Raunaq : Arey bhai ! Jis se zara bhi ummed thi, usne har us shakhs se sifarish kari. Sab ne khoob khidmat li, phir chuse hue aam ki tarah chhod diya.
To kya ab usne koshish chhod di ?
Raunaq : ab use naukri ki zarurat nahi.
Kyun bhai koi kaam waam shuru kar diya ?
Raunaq : Nahi, taqreeban 35 saal ki umr me hi wo jannat makeen ho gaya.
Ohh sorry. maine aahista se kaha.